February 27, 2018 @ 11:33 AM
This fabulous recipe is great for you hair, skin, nails, body and chakras. It is filled with super foods that are packed with immune boosting, age defying nutritional compounds.
Quinoa
Quinoa (keen wah) is a grain which produces the tiny seeds that we prepare and eat in salads, soups, side dishes or just by itself. It is filled with vitamins like B1, B2, B6 and E. It is high in protein and iron. The iron is oxygenating and optimizes your brain and muscle function .

High in Fiber and Magnesium this super food helps keep your heart healthy and lowers blood pressure. It helps manage glucose levels and reduce the risk of developing diabetes. It is a powerful antioxidant which helps slow down the aging process by preventing oxidizing damage within the body.
Quinoa balances the Solar Plexus Chakra by boosting your self-confidence. Your personal willpower is restored and cleared by consuming these lovely seeds. they are believed to increase your ability to set personal boundaries.
Spinach
Free radicals destroy cells and accelerate the aging process. Spinach is high in the antioxidants Vitamin A and C which help repair cellular damage and assists the body in manufacturing new cells. The Vitamin C and water content in Spinach increases your skin's NMF ( natural moisture factor) which helps in reducing a dry, dull complexion.
Vitamin K found in spinach helps reduce dark circles and increases blood circulation giving the skin a glowing clear appearance.
The Heart Chakra resonates at the color green. Focus on self-love, acceptance of your life's journey and forgiveness of yourself or others is assisted with the dark green edible leaves of the Spinach.
Avocado
Oleic acid is used in the cosmetic industry for its highly moisturizing benefits. It is an omega-9 fatty acid found in many plant sources including the avocado. The avocado contains a higher content of oleic acid that the hydrating coconut oil. It is a monounsaturated fat that is considered a good fat for your body.
It allows the body to help keep the skin hydrated.
The Avocados hydrating benefits are received and utilized by the body by eating them, culinary use of avocado oil and even topically applied. Facials can be made using this fruit.
The chemical make up of Avocados can improve collagen production and improve the elasticity in the skin thereby reducing fine lines and wrinkles.1 That makes me soooo happy!!
So Go Ahead and Feel Great from the Inside and Outside!!
Let us know on our facebook page when you try this recipe out.
You might add your own unique twist to this one!
Quinoa Spinach Avocado Super Salad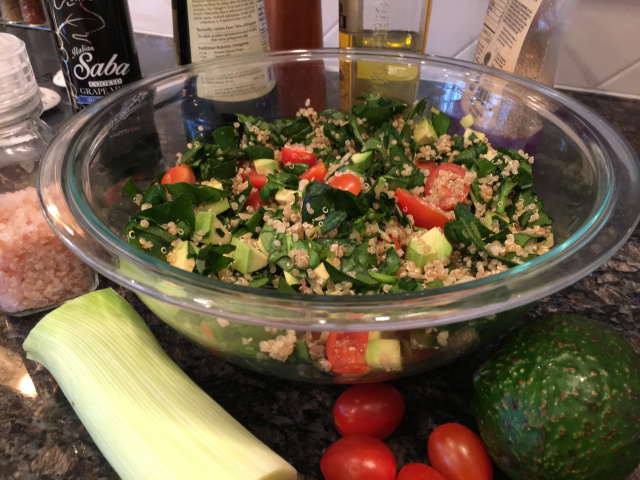 Ingredients
1/2 cup Dry Quinoa (Prepared to package directions)
1/2 tsp Grapeseed Oil ( save a few drops to massage into your cuticles)
1 Clove minced Garlic
1 inch Leek chopped
2 oz Baby Spinach Chopped
4 oz Cherry tomatoes cut in half
1 small Avocado Diced
1 tsp Balsamic Vinegar
2 tsp Grape Must

Himalayan Pink salt to taste
Black Pepper to taste
Set the prepared quinoa in a large salad bowl.
Saute minced garlic & leaks in grapeseed oil over low heat for about a minute
add spinach until it begins to wilt. Add the garlic, leaks and spinach to the quinoa.
Add The Cherry tomato halves and diced avocado to the salad mixture. Blend the balsamic Vinegar and Grape must to together and add to the salad. Eat now or chill for later!
RESOURCES
Danhof, Ivan E. "Potential reversal of chronological and photo‐aging of the skin by topical application of natural substances." Phytotherapy Research 7, no. 7 (1993)
Heinerman, John. Heinerman's Encyclopedia of Healing Juices. Penguin, 1994.