January 9, 2018 @ 1:19 PM
I have just added the Essential Oil of Basil to our list of oils in our product line at the Twilight Therapy Store. A few of us have been using the oil to add flavor to our cooking oils and have found it to be easy to work with as well as satisfying our tastes buds.
Basil oil can be added to Olive Oil, Sesesme, Grapeseed, Peanut, or coconut oils and used to saute vegetables and/or other aromatic spices together.
1

TBLS

Olive Oil

1 Drop of Basil
Remember that the EO ( essential oil) is much stronger than the herb so the flavor will be powerful in minute amounts.
| | |
| --- | --- |
| | |
| Basil Oil | |
| Country of Origin | USA |
| Plant Part | Leaves |
| Note | Top-Middle |
| History | Used in Ayurvedic medicine and has culinary uses of the herb and oil. |
| Vintage Uses | Has been used and researched for use during Cold and Flu season, and believed to have antispasmodic properties |
| Skin & Hair Care | Good for acne-prone skin, brightens a dull complexion, adds shine to hair |
| Body Care | Researched for its use as a digestive aid, helps alleviate constipation & gas, has been used to treat migraine headaches, used in a salve or inhaled may help alleviate sinus congestion, helps reduce cramps, |
| Children | |
| Pet Care | |
| Mystical | Is believed to connect you to the wisdom of your higher self; increases prosperity and abundance |
| Psychological/Spirit | Anxiety, depression, stress , calmling to the emotionsl |
Recipe
Basil Spiralized Squash Winter Salad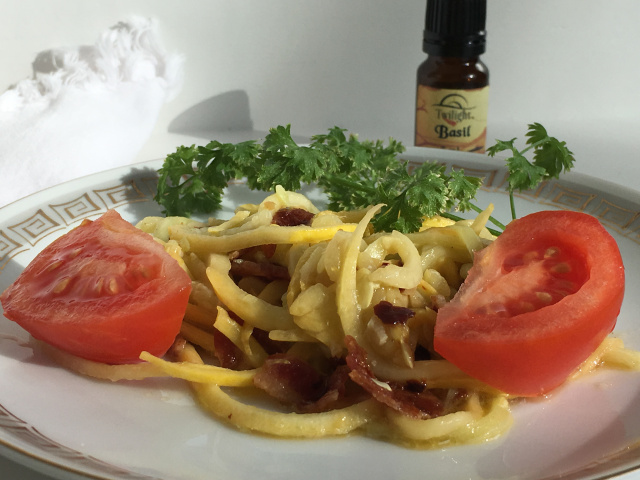 Ingredients

3 Bacon strips or turkey bacon (optional)

2 "spiralized" summer squash or zucchini ( noodle spirals)

1 drop Basil Oil

1 TBLS Extra Virgin Olive Oil

1 small minced garlic clove

1/4 tsp red pepper flakes

Black pepper

1/4 cup Grated Parmesan Cheese

Quartered small tomatoes as a side

fresh cut parsley to garnish

1. Optional: cook bacon until crips & set aside

2. Add 1 drop of basil oil to 1 TBLS of Olive oil , add to pan with garlic cloves, red pepper flakes, black pepper cook over medium heat for about 45 seconds

3.Add the Squash or zucchini noodles to the pan, cook, toss lightly to distribute the oil flavorings for about 3 or 4 minutes

4. Add the cheese and toss thoroughly

5. crumble bacon on top and serve warm.